E-commerce is no longer a domain for just small businesses and startups. Businesses of all sizes have started to adopt an e-commerce component into their strategy. 
Due to the intense competition, having an e-commerce marketer on board is crucial to ensure your target customers visit and purchase products from your online store. 
But how and where exactly do you source the right talent for this vital role? 
We uncover everything you need to know in this article.
What skills does an e-commerce marketer need?
E-commerce marketing requires a multi-disciplinary approach to drive awareness and action among its target consumers. Like any other marketing effort, the goal is to convince consumers to buy from you.
However, it's not easy to contend with the highly volatile and crowded online market. 
Whether you're looking for an in-house e-commerce marketing manager or a part-time freelancer, they must have certain skill sets to drive
success.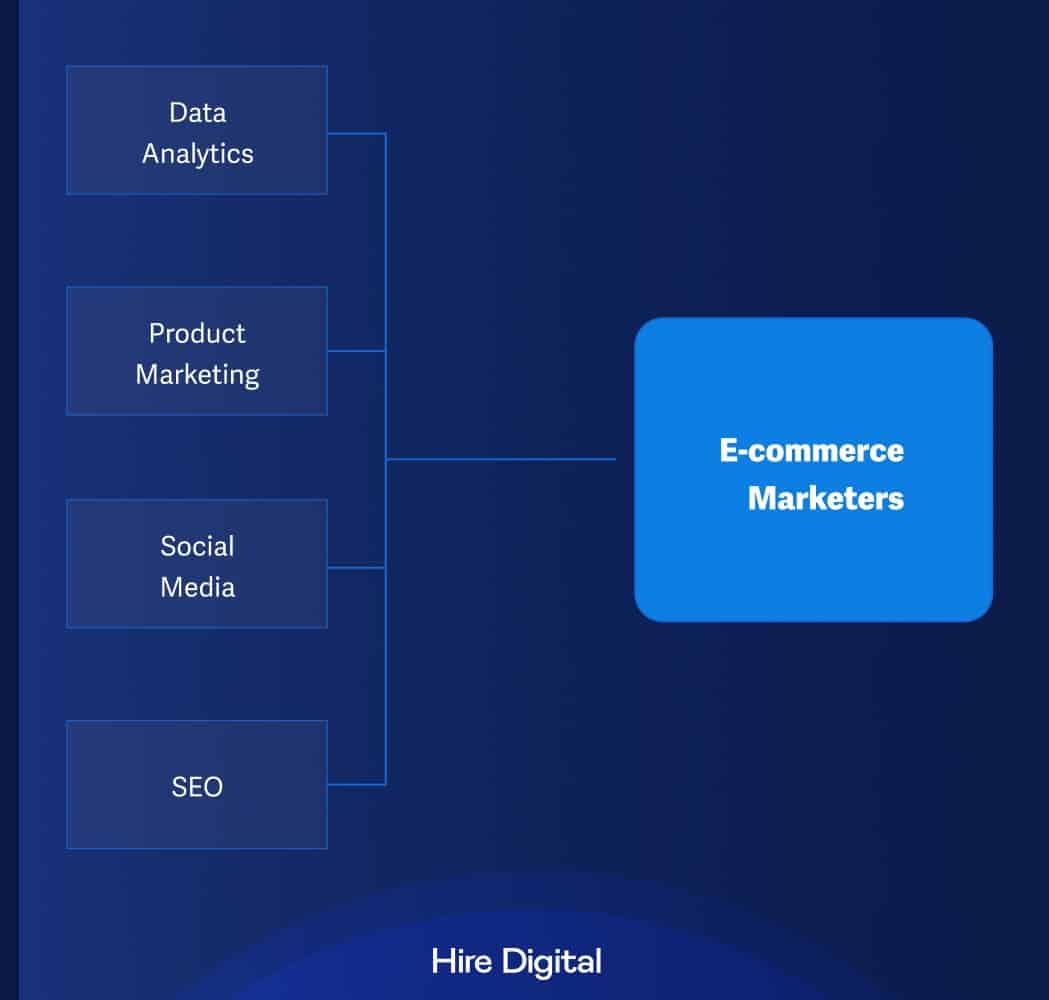 Data Analytics
Every action a consumer makes online is generated data. Here are two of the most crucial data points for e-commerce businesses:
Web visits

Customer retention 
Through these datasets, you can see the following actions from your visitors: 
Spend more than a few seconds on the website 

Make a purchase

Leave items in the cart without checking out

Make it to the checkout page right before leaving the site
Google Analytics usually provides the aforementioned data on consumer behavior, which most marketing teams have access to.
The candidate must know how to analyze and generate insights from this data to help e-commerce websites understand their customers' behavior, optimize strategies, and increase online sales.
According to a Gartner study, more than six out of ten marketers agree that e-commerce analytics is essential. Yet less than half are capable, which signifies a tight labor market for talent with data analytics skills.
The talent must recognize how critical analytics is to business needs in order to: 
Strategically plan their marketing campaign based on their users' behavior 

Identify which marketing channel they're most likely to leave the page
Candidates must review these insights before working on onsite content and executing strategies such as placing Facebook ads or Google ads. 
Product Marketing
Customers are after the best products or services sold, so communicating your product's value proposition must be a top priority. 
In a crowded and noisy online market, it's paramount to grab your customers' attention and inform them of your product's benefits. 
Thus, in e-commerce, sales strategies primarily depend on how well the product marketing performs. 
Here's how marketers usually enable customers to make the first purchase or buy more: 
Talent with product marketing skills can help you achieve more e-commerce sales by acquiring more purchasing customers and increasing conversion rates.
A talent with such skill sets must be able to work closely with the sales team members. Like salespeople, e-commerce marketers must be highly knowledgeable of: 
The product and its positioning

How the product resonates with the target consumers
Product marketing is also essential when selling new products, which requires more effort to promote. In fact, an HBR study claims that there's an additional 32% of time spent educating customers on new products.
Social Media Marketing
Based on a Hootsuite study, 76.8% of internet users around the globe bought a product online in 2020, and 44.8% searched for brand-related information on social media. 
Thus, the social media realm is a crowded but thriving marketplace, and so talents with social media marketing skills should be able to execute the following: 
Expand social media reach 

Deliver the right content 

Form and engage communities 

Listen to customer sentiments 
Integrating social media capabilities into your e-commerce operations drives brand awareness and a strong social presence.
Let's take a look at an example. 
Facebook Messenger, which has more than 1.3 billion monthly regular users, can be used as a fast lane for product inquiries, reservations, and order taking/tracking. E-commerce marketers can also utilize it for paid ads, lead generation, and customer service.
Search Engine Optimization (SEO)
It should be easy for your target customers to find your website and your products. Talent with SEO skills can enable your website and product pages to rank well by:
Simplifying site structure and user-experience 

Optimizing loading speed

Including target keywords in product pages' title tags, body copy, image alt texts, and meta data 
But it's easier said than done. An SEO-competent talent must know how to do the following in order to hit those objectives: 
Identify high-value search terms 

Analyze competitors' performance 

Gain insights from the best-performing results in selected keyword domains
Lastly, content marketing, marketing automation, and digital advertising are other skills that would be good for an e-commerce marketer to have. It's a huge bonus if they also have knowledge in conversion rate optimization (CRO), project management, and web development as well.

How to assess an e-commerce marketer?
Establish your hiring objectives
As employers or recruiters, it's important to be very clear about your needs, the role, the job description, and the required skillsets. These will serve as your anchor throughout the candidate evaluation process.
Check if their profile fits your objectives
Take a glance at the resume and then ask yourself, "Does this talent offer the skillset that the job requires? Does this talent meet the minimum level of professional experience we prefer?"
If the resume provides affirmative answers to your concerns, then you can move forward with the hiring process.
Put their skills to test
Formulate a test or case study your talents could take to vet their skills and ensure their profile is accurate. This test should act as a simulation of their future tasks.
Look for soft skills
Be on the lookout for soft skills and take note of it. These can be a deciding factor if the selection goes down the wire between strong candidates.
Observe their analytical thinking
E-commerce marketing involves dealing with a lot of data analytics, which could dictate the company's decisions. The talent must be able to interpret data and formulate insights.
Do a culture-fit check
Gauge whether the talent will be able to adapt to your company culture. No matter how compatible a talent is skills-wise, a mismatch in this department would more likely result in burnout and, eventually, turnover.
When talents feel at ease with their work environment, they are usually more satisfied, and thus more effective and loyal.
How to hire the best e-commerce marketer for your company's needs?
The best candidate doesn't have to be the best on paper but the one that fills your company's skill gap. Each candidate has a unique mix of skills, professional experience, preferences, and personalities. 
Here are some of the e-commerce personas you may encounter in your search.
E-commerce platform experts
A tenured employee from prominent e-commerce companies or platforms

Previous experience may include consultancy work or SME for an e-commerce platform

Skilled in digital marketing
Pros: This candidate is an industry veteran with technical expertise, and they can design an effective digital marketing strategy. 
Fit: This candidate type is ideal if you're looking for someone experienced and skilled enough to lead a team, set the marketing direction, and design a growth strategy. 
Cons: These candidates' asking salary tends to be higher.

Direct-to-consumer (DTC) brand marketer
Have worked for a DTC brand

A digital or product marketing specialist

Not as experienced as e-commerce platform experts, but still possess relevant skills
Pros: This candidate should not have a hard time transitioning since e-commerce retailers have the same setup. They have extensive experience with leveraging social media and email marketing to generate leads and promote products. 
Fit: If you're not looking for a leader or manager, but someone with field-tested digital marketing skills instead, this talent is right for you.
Cons: This type of candidate is usually not as tenured and experienced in the e-commerce industry. 
E-commerce category managers from large corporations
Held a managerial position that oversees the e-commerce segment of the company

Years of digital marketing experience
Pros: This candidate has solid digital marketing experience, particularly in the retail industry. 
Fit: If you're looking for someone who can bring over some of the best practices from well-established organizations, then this talent is your best bet.
Cons: This candidate is usually accustomed to a more bureaucratic approach in operations as they are used to working for an established brand. 
Online store owners
Operated an online business for years

Performs diverse tasks and wears different hats

Knows the fundamentals of digital marketing
Pros: This talent has acquired considerable skills owing to their experience as an e-commerce store owner. 
They are proficient in e-commerce site administration, inventory management, CMS, and CRM, aside from knowing the digital marketing fundamentals. 
Fit: If you're a start-up looking for someone to fill a hybrid role that can provide leadership and expertise, then this type of talent would be a great fit.
Cons: They are not usually used to high-scale marketing strategies for bigger platforms.